Table of contents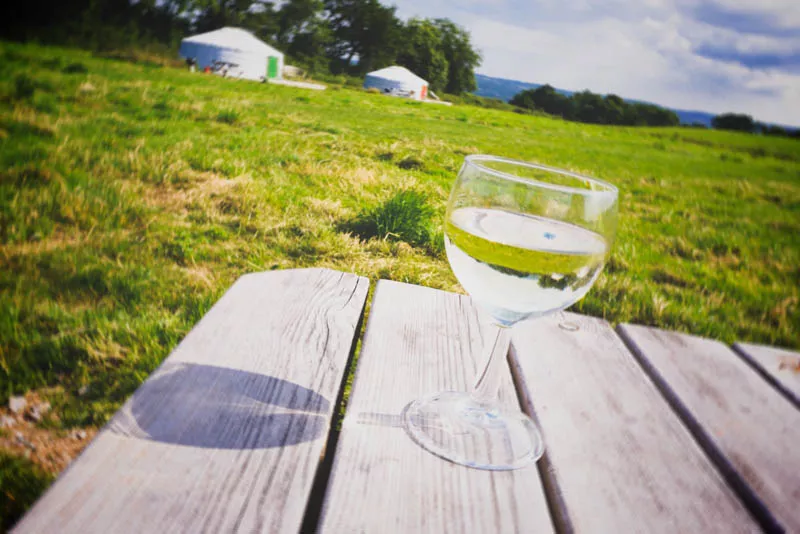 There's a huge amount of choice when searching for family glamping holidays today.
A wonderful variety of glamorous camping sites offering accommodation ranging from Pods, Cabins, Treehouses, Safari Tents, Shepherds Huts, Bell Tents, to Yurts
….and that's just to mention some of the common ones before we get onto the Double Decker Buses and Jet Planes out there.
And, of course, within that there's a massive range of cost - with each site providing differing levels of luxury, space, exclusivity, and facilities.
Here at Somerset Yurts we're one of the longest established luxury camping sites in the UK. Having run our site since 2011, we decided to pull together some of our top tips and asked a friendly family blogger for their tips, to help you select your site and to make sure you've packed and planned everything you need for your family glamping break.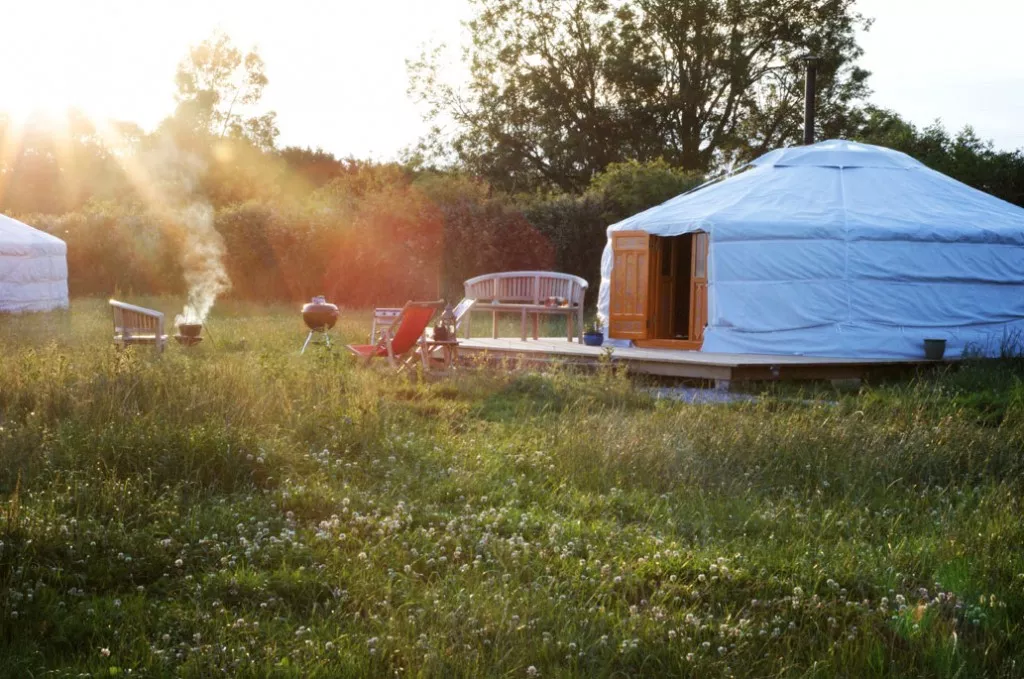 Obviously, as Somerset Yurts we're predominately a Yurt site, and therefore ever so slightly biased.
So just want to say:
We love Yurts!
The space they provide for families and their warmth and zen like relaxation qualities won for us.
But we know/accept/concede that every site and accommodation type has its pros and cons, and it's not simply that our Yurts are the best :) So there are plenty of non Yurt, general tips, for glamping holidays in this article.
(….we have managed to sneak a Geodesic Dome past the Yurts onto the site for 2017, and Safari Tents in 2019).
As parents ourselves we've stayed in the Yurts here multiple times with our three boys (now 12, 10, and 7) to make sure we're happy as a family staying here, and to ensure there's everything on hand to have a great time glamping with the kids.
We're getting pretty confident we're well on the way to getting it just about right!
Here at Somerset Yurts our goal is to provide plenty of space for children to run free and get back to enjoying the natural environment and countryside around them, while providing the comfort and facilities to make our job as parents as easy as possible.
Here's what we we think are the important things to consider, and what we cover below:
---
As mentioned above there's a huge range of sites offering family glamping holidays in the UK and abroad, each with their own individual pros and cons, us included! We think key considerations about the site are:
Is it truly family friendly - are there all the home comforts you'd expect and the extras like high chairs, fire guards, games, and toys available on site?
Does the site offer you the living and playing space, the freedom, the uniqueness, and exclusivity you're looking for?
How easy is the site to get to from home?
What can you do in the local area?
Have a look for reviews from families traveling and staying at the site.
Of course we'd like you to come and stay with us, but in case you hadn't already found the websites below, they list us, and lots of other really good family glamping sites around the UK:
---
What to take glamping is potentially a fairly large list depending on where you're staying, but should be a lot less than traditional camping.
For our site here at Somerset Yurts we'd suggest, and what we pack if we're staying at the Yurts:
Clothes! :) (including some extra layers for evenings around the campfire, and early mornings)
Waterproofs
Wellington Boots if you want to come and have a look around the farm - even if the weather is good, bring them for the kids as they are quick and easy to slip on and off!
Toiletries and Towels
Bedding (if you've not ordered it from us)
Head lights - the kids will love these, trust us!
A spare torch or headlight for when the kids have yours
Suncream and hats (we live in hope)
A few favorite books / toys / games (including outdoor games like frisbees and bats and balls, we've got some indoor games if you forget)
Plenty of wipes for young children
If you have them, Crocs are quite handy for kids kicking on and off
Bikes (if you have the space - there's some great cycling to be enjoyed around the lanes near the farm, and kids can happily ride around the barn and paths at the yurts)
Food (several supermarkets about 15mins away if you don't want to bring it with you, or you can pre-order it to be delivered here on the day of your arrival)
First aid kit for adventures while out and about (we have one in the barn)
Your sense of adventure!
We'd imagine that's a fairly standard list of things to pack for most other sites as well, but it's always worth checking what's provided, and what's not, so you don't get any surprises….
All the utensils you need to cook are already here, BBQ's, stoves, oven, microwave, pots and pans, plates, mugs, kettles etc. - plenty of seating, tables, loo rolls, and washing up liquid - here's the main room of our barn: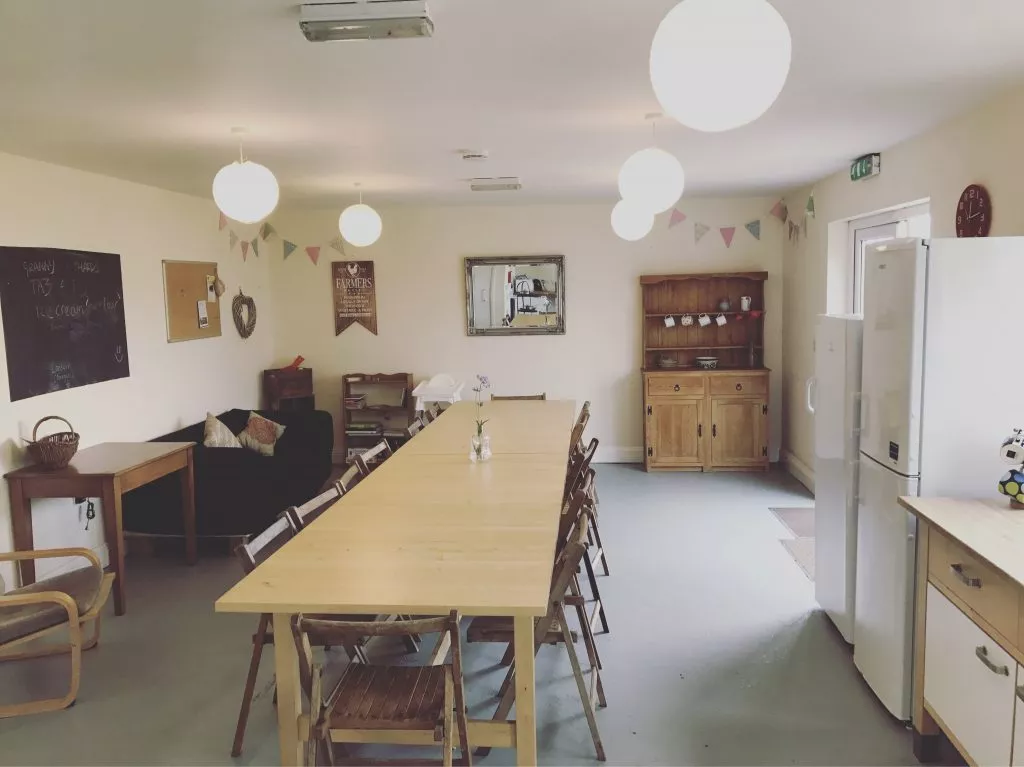 The wonderful Helen from actuallymummy.co.uk adds:
Bring wellies or crocs, whatever the weather. Something easy to slip onto your feet for a midnight loo dash. We don't allow shoes inside the tents on a camping trip, but everyone is in and out so many times it gets tedious lacing shoes on and off. My crocs never see the light of day normally, but they're essential on a camping trip.

Plus comfy camping chairs are a must - preferably those ones which have a pocket for a wine glass or beer bottle. Even the kids prefer a chair to sitting on a picnic blanket, so whilst it might feel good to travel light and make do, chairs is one thing you can't afford to scrimp on.

When you're glamping you don't need to worry about comfort, but it can still be chilly till the stove gets going, or the hot water bottles kick in. I always bring a pair of fleecy socks so that cold feet don't prevent me dozing off.

A string of battery-operated fairy lights make evenings in a tent or hut feel really magical, especially if you have children. And we always give the kids a glow stick at night to keep by their beds, in case of pitch dark wake up moments.
We'd agree, and the glow sticks are a great idea.
If you're into lists (and aren't we all?! :) ) Here are two comprehensive lists:
There's lots on those lists that we provide for you here (have a look at what we pack above if we stay at the Yurts to get an idea of what you do and don't need to bring).
They're useful to have a look at in case there's something that springs to your mind having read them - and of course get in touch if you've got any queries about what we provide.
---
There's plenty of fun the kids can have in the Yurt field here - it's a two acre field where they can run free and explore.
Usually some straw bales can be discovered in the Barn next to the Yurt site, kids love jumping around on these….even our kids, who see them almost everyday, love jumping around on them…
"Mummy we've not played in the straw!!!!" is a fairly common cause of complaint when we're walking up the lane from the farm.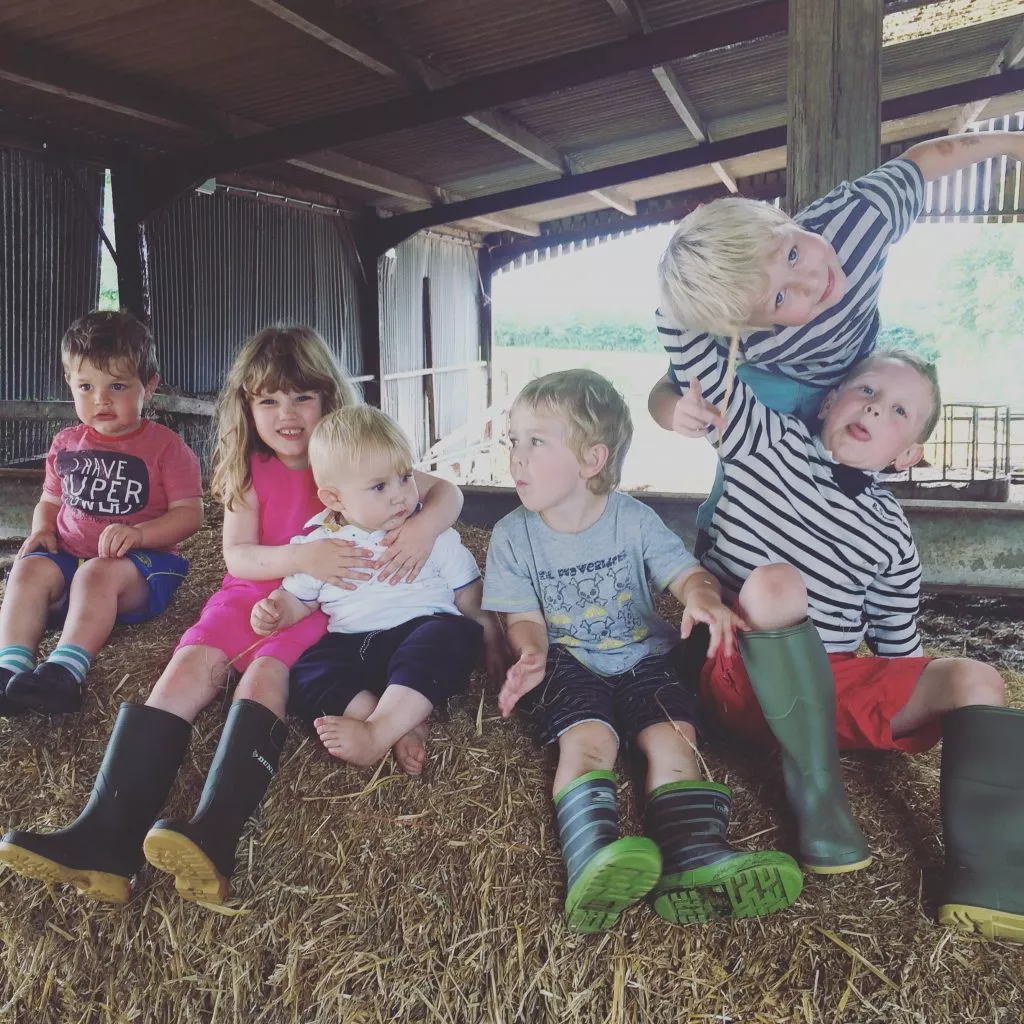 We've also seen them used as an impromptu stage for a children's made up play which was fab.
More generally than what we have here:
Around the campfire:
Lots of fun can be had simply toasting marshmallows, of course if you prefer, or if the site doesn't allow campfires, you can always do those on your BBQ or stove next to your accommodation.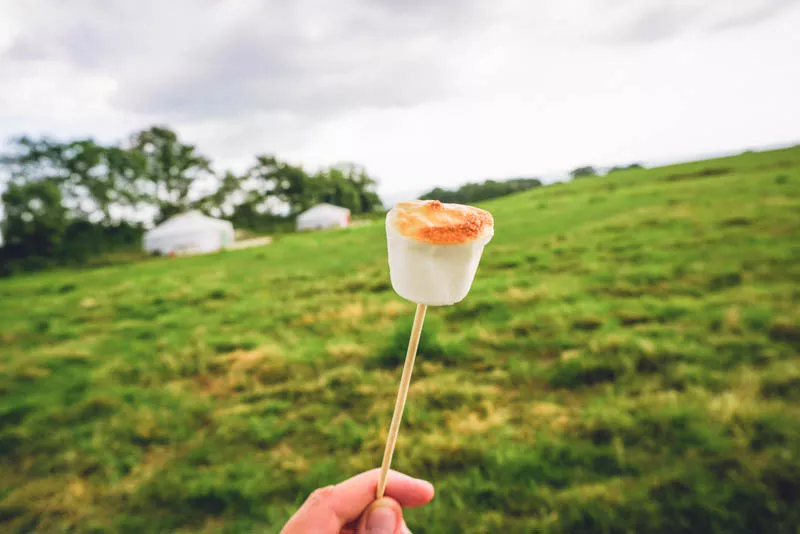 Scanvenger hunts:
They're great fun for kids too. There are lots of lists you can find online, here are a couple of good ones that we found:
So if your chosen site is in a nice natural environment the kids can spend a fair bit of time finding sticks and leaves and things to make.
A top tip:
buy/find some paper bags, and write or draw the list on the side...then the kids have something to collect their list in.
The natural environment:
We recently got a stick book as a present….now while that sounds a bit boring…...the swords, bows and arrows, and mini stick people inspired by it are lots of fun :)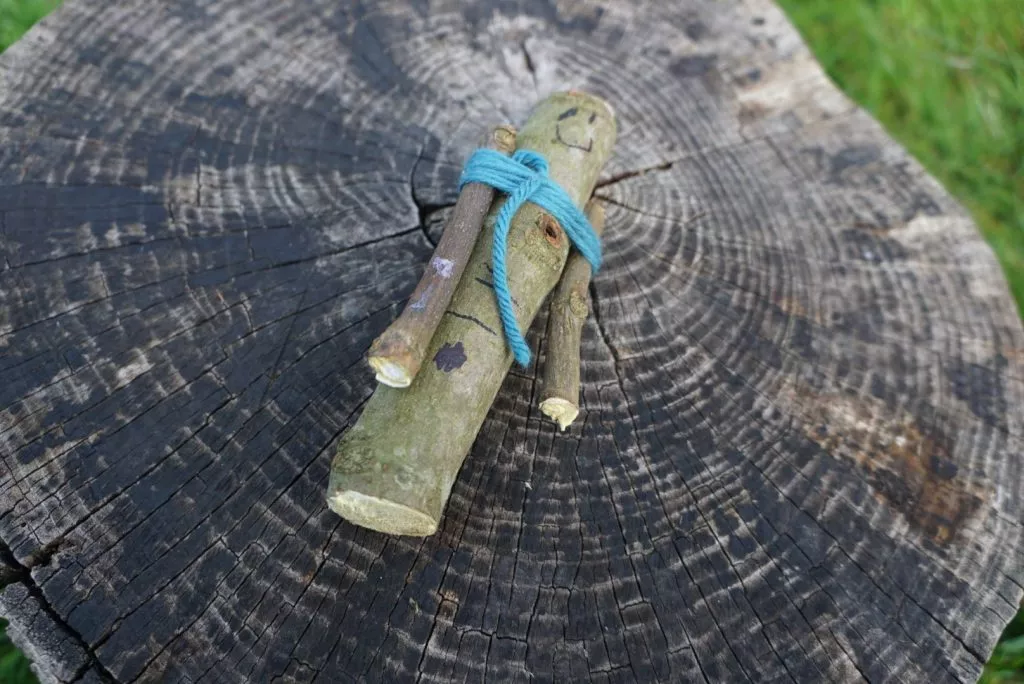 Your time:
If there is one thing that kids crave, it's time with their parents. We have personally found that glamping really frees up the parents' time to enable that.
Being outdoors and away from the distractions of TV, devices, their usual toys, all your work and chores etc. really does bring you together - simple things like reading together, playing football on the grass, toasting marshmallows, playing tic tac toe with chalks on the concrete yard at the barn - cost nothing and mean everything.
We'd agree with Helen's tips below:
Often with camping it's about what there is to do in the local area, so we always think about our location. But when the weather is good and the campsite lovely, it's so nice just to hang out in a field sometimes.

So we always bring games for the kids to play. Giant Jenga always makes it into the car, as well as the usual cricket and rounders bats.

Going on family glamping holidays with friends is the best way to keep kids occupied till well after dark if they have games to play together. Also board games and torches for the inevitable rainy days.
A glamping holiday with some friends who also have children ensures they sleep well, when they do eventually sleep! :)
Other things to do a bit more specifically to us here at Somerset Yurts:
Very locally (10-20mins drive) we have:
A little further away (about 40mins drive):
All good fun days out with the children and of course you can come and meet the cows and calves on the farm. (Read more about our days out in Somerset here)
And give us a call if you want any other ideas.
---
One of our "go-to" meals we've cooked while staying at the Yurts is Sausage Pasta (it's loosely based on this Jamie Oliver recipe) - and it's a fairly simple meal to make on our Prakti Stoves.
The video below shows us making it on one of our Prakti Stoves, there's more details about the stoves and cooking on them.
https://youtu.be/rrZ7F3kQZVY
Some of our favorite resources for child friendly camping meals are:
Helen's tips:
We often bake a split banana in it's skin, with a Flake crumbled inside it. Wrap it in foil and stick it at the edge of a campfire - yummy! We'll do the same with plums and muscovado sugar.

If someone's willing to shake up an unopened pot of whipping cream for ten minutes or so, you'll have whipped cream to go with them!

Also, some glamping sites have pizza ovens, but we learned the hard way not to bother making the dough. Just stick a pizza base in and get kids to load up their own. Or you can do a makeshift pizza on a bbq by using a wrap as a base.
I guess we need to add a pizza oven to our shopping list here at Somerset Yurts!
There's lots on pinterest to inspire you too - https://uk.pinterest.com/explore/camping-recipes/
We've got a board there where we're saving ideas we like -
https://uk.pinterest.com/somersetyurts/around-the-campfire/
Thankfully here at Somerset Yurts we've got a lovely facilities barn with a regular kitchen and plenty of undercover areas in case the weather isn't playing as nicely as it should be.
---
We hope that's given you some ideas and thoughts about booking your family glamping holiday, of course we'd love to see you here.
A big thank you to Helen for her contribution to this article. Helen runs the award winning actuallymummy.co.uk blog. We're fans of hers and would recommend subscribing to her updates.
Finally: if you're not yet ready to take the plunge and come and visit us…...
Sign up for our newsletter below for late availability deals and updates.
Wherever you choose (and we hope it's us!): Happy glamping!
Get in contact with any questions.
P.S. In case you missed it - our availability page is here :)