About us
Somerset Yurts is run by us, husband and wife team, Mark and Emma Cavill along with our three young boys, Will, Tommy and Oscar.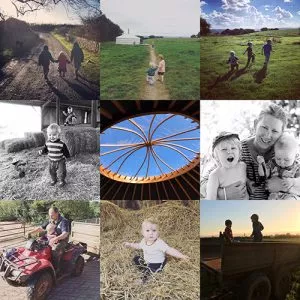 Having spent 10 years in corporate life around the Thames Valley, we decided the time was right to move back to Mark's family farm and settle down in our beloved West Country (we both grew up here, and in fact met at college!).
We spent many weekends traveling back and forth from Somerset to Berkshire, while we were still working and planning our move back, we really grew to appreciate the slower pace in Somerset, the countryside, big skies, and peace that the farm provided.
We started hatching plans to share this slice of rural tranquillity with people looking for a break from their daily stresses; and knew that yurts, combined with our farm, would provide a really unique 'glamping' experience, so Somerset Yurts was born!
It was, of course, a massive decision to leave the jobs we had in the South East and move back to the farm.
Getting the Yurt idea through the planning process back in 2010 was a challenge and finally getting planning permission was a huge relief. Of course that was just the start of the hard work of setting the site up!
The farm is a dairy farm, with around 150 cows over 250 acres, and we are gradually building up the herd numbers since the expansion of our milking parlor a couple of years ago. We run a low input grazing system, so the cows are outside as much as the British weather allows, eating the abundant grass we grow here in the South West.
We look forward to welcoming you to our beautiful farm and yurts.
Mark, Emma, Will, Tommy & Oscar.