Table of contents
We received our lovely new Dutch Oven this weekend, and couldn't wait to test it out!
Mark made a small campfire and we hooked it all up ready to brown off some sausages for a little stew. I must say it was lovely to be sitting al fresco listening to the oven sizzling away – more relaxing than a BBQ somehow. I love one pot cooking, and the Dutch oven seems the ultimate 'one pot'! This is an 8 litre one, and can cook for up to 11 or 12 people, so plenty big enough for a good feast around the campfire :)
After about an hour of cooking, our stew was ready, and it was delicious. Can't wait to try out more recipes, so we can share them with our yurt guests!
Getting the campfire going at the Yurts
Build a little stack of kindling with a firelighter at the bottom to make it easy. To be honest it was quite blustery in this video and it took a couple of matches to even get the firelighter going
Once the kindling has taken load on some small logs
Slowly build it up if you want a fire that keeps going for some time with larger ones - we didn't in this example as just setting up for a quick stew.
https://www.youtube.com/embed/5WYFMkz8IKM
Our smaller campfire we made in a field close to the Yurts for this meal:


Campfire all set for the Dutch oven
Ingredients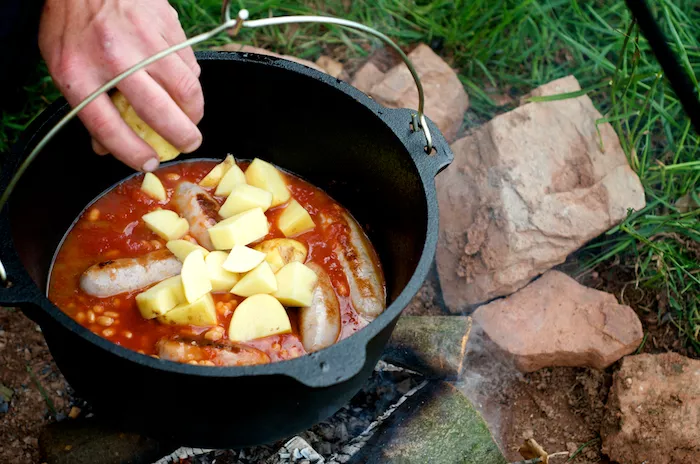 For this really simple meal it was:
A six pack of nice sausages
A tin of chopped tomatoes
A tin of baked beans
A few chopped up potatoes - depending on how many you're feeding / how big the oven is :)
A pinch or two of mixed herbs
We browned off the sausages a bit before adding the other ingredients - but other than that it's just a case of pop it all in and get on with something else. Make sure the fire is still going and enjoy yourself.
A really simple one! We added some nice crusty bread and butter to go with it.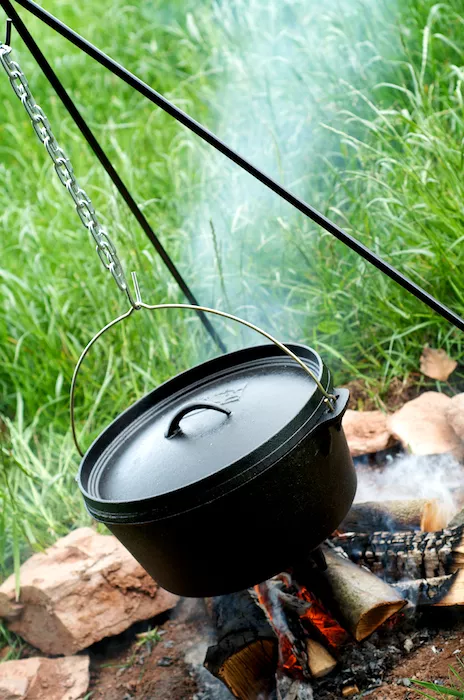 Cooking on the campfire!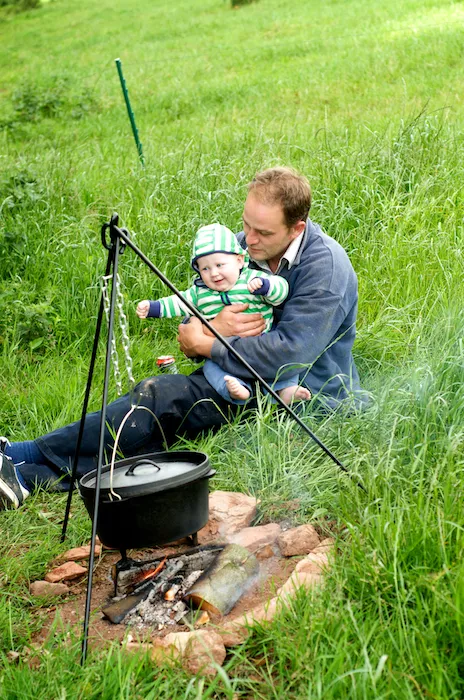 Time for a play while the stew cooks :)
Setting up the Dutch Oven Stand at the Yurt campfire
https://www.youtube.com/embed/skaL8N06W0M